Barbershop
We believe you feel happier when you look beautiful.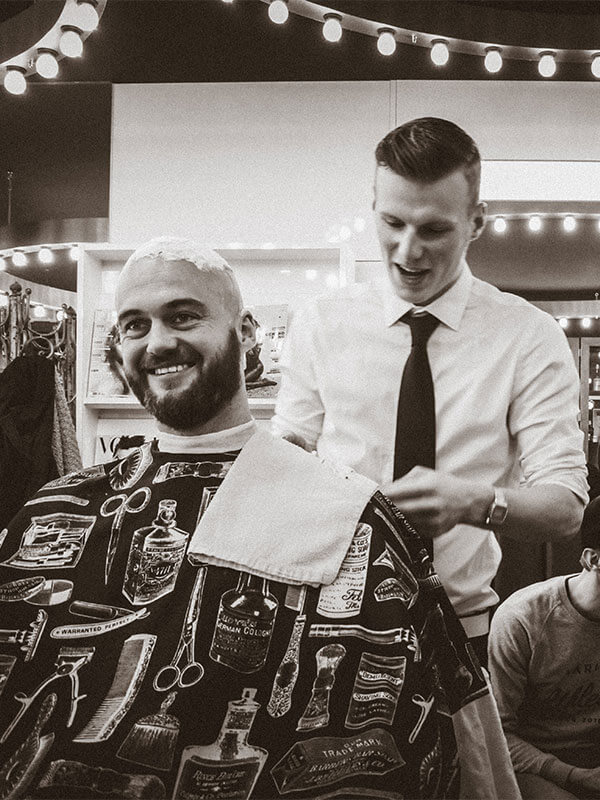 Due the Corona measures, we can only work by appointment in our Barbershop. You can still walk in but the appointments will be served first.
The Barbershop used to be a "social hotspot", a place where men from all walks of life gathered and felt at home. The "Pierôt Barbershop" is a contemporary version, while retaining the good things of the past. Men who want to look well-groomed, but who are also looking for adventure. Traditions of the past mixed with the techniques of today.
Boys < 20 years | Students: 20% discount
Classic 'Hot Towel' Shave | 40,-
Haarlem only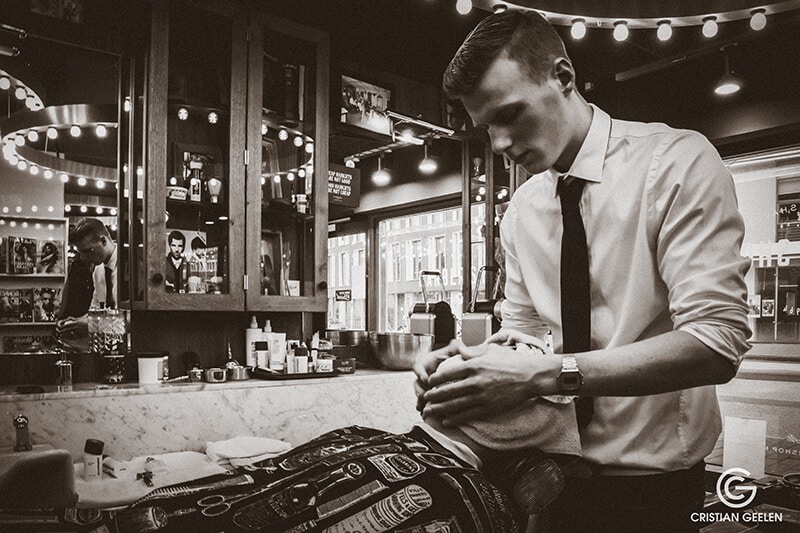 Experience the ultimate moment of relaxation of a classic shave with the open knife. The warm towel, the razor-sharp razor, the massaging effect of the shaving brush, and caring oils make wet shaving a relaxed time of the day. Your skin is cared for and you feel good. We use several newer products such as pre-shave oil, shaving gel and shaving foam when wet shaving and of course hot and cold towels, according to the "Old Italian way".
Virgin Shave | 35,-
Your Subtitle Goes Here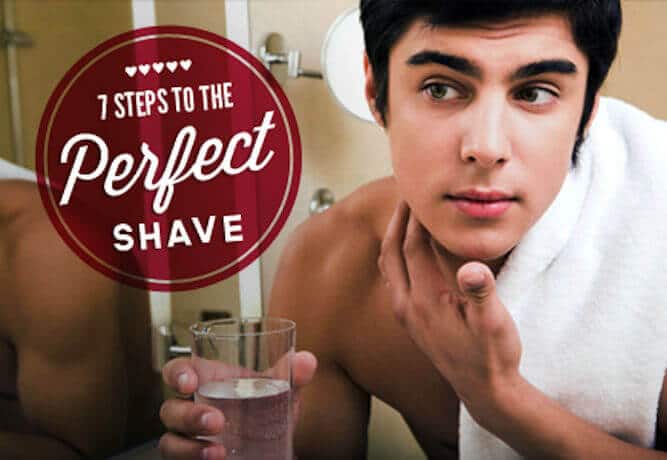 Shaving used to be taught by father to son. But Pierot's Barbers explain to you in detail how to shave. When the first soft hairs finally appear on your face, it is time for a Virgin Shave. We teach you how to shave and let your first hairs grow into a real beard.
Head Shave | 27,50
Your Subtitle Goes Here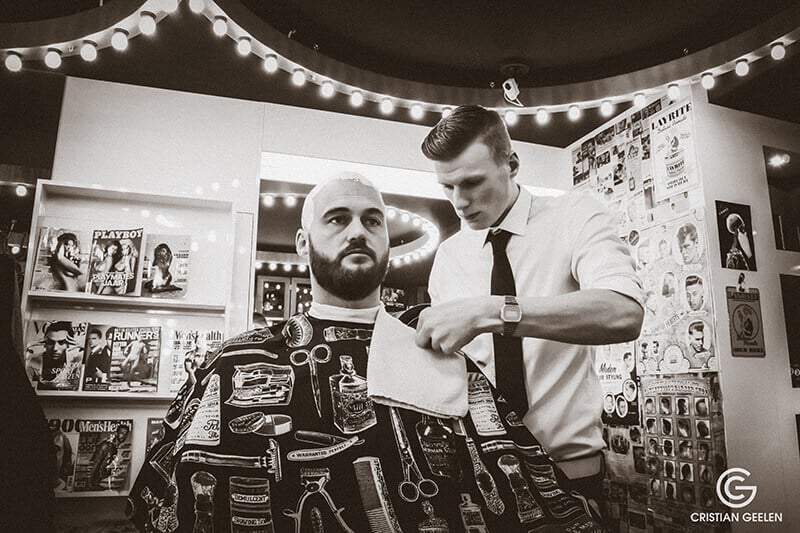 Make your dome shine with our awesome hot lather head shave. Our barbers use steel straight razors, include a deep cleansing and toning treatment, moisturizer, leaving your skin super clean, revitalized and smooth.
Beard/Mustache trim |17,50
Your Subtitle Goes Here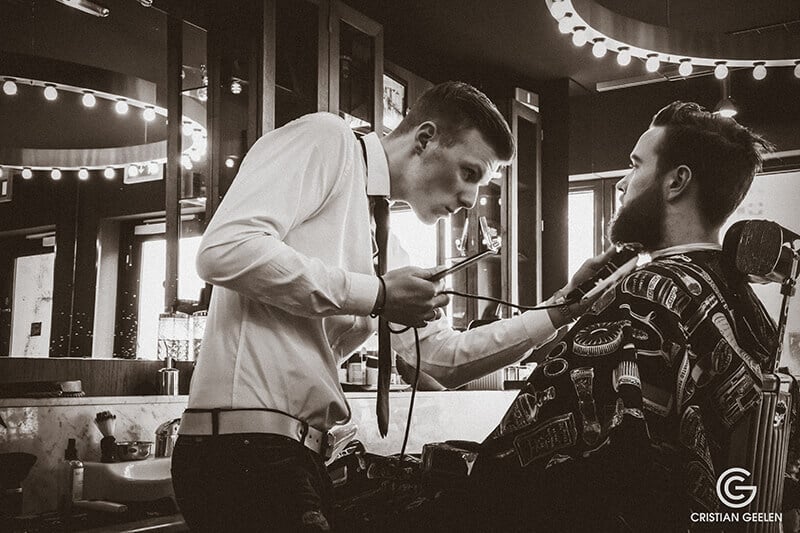 A good beard trim requires the hand of a professional barber. He carefully looks at the direction of growth and cuts the beard that matches the shape of your face. The beard makes the man. A Beard trim with clippers and attachments, without the use of a razor. So no clean lines but with the use of beard products.
Of course, he also gives advice on how best to maintain your beard with Depot products.
Beard Razor Reshape |27,50
Your Subtitle Goes Here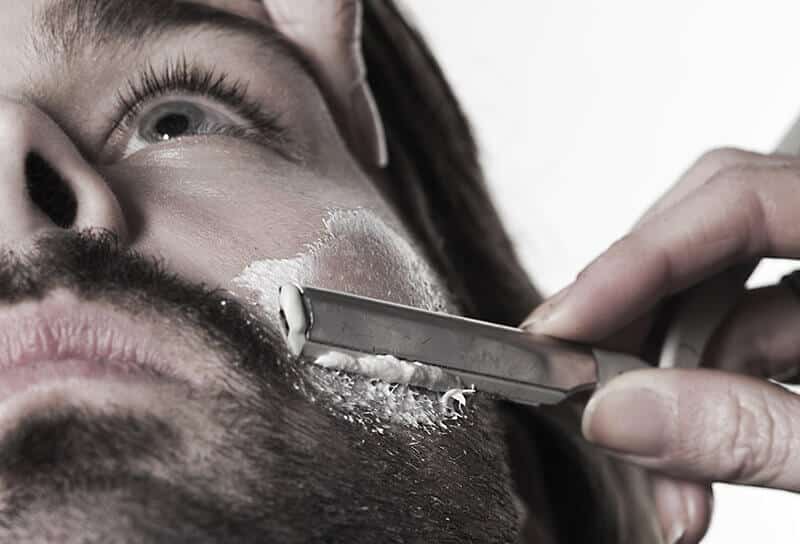 The beard is brought back into shape and neatly finished. Unwanted hair is shaved the authentic way with a warm towel and razor. Including shaving a tight beard line.
Cut & Go | 42,50
Your Subtitle Goes Here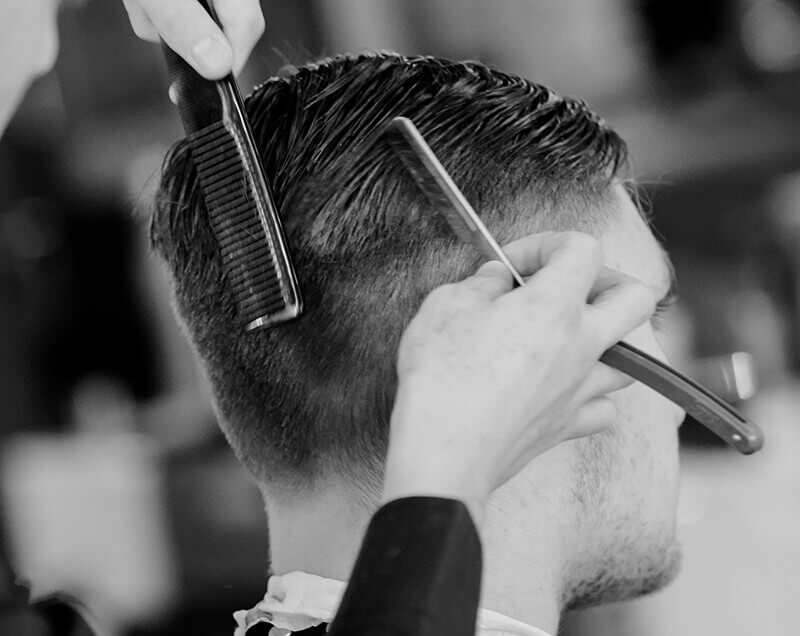 For a well-cut haircut. From an executive style or business look to a trendy cut.
Skinfade | 27,50
Haarlem only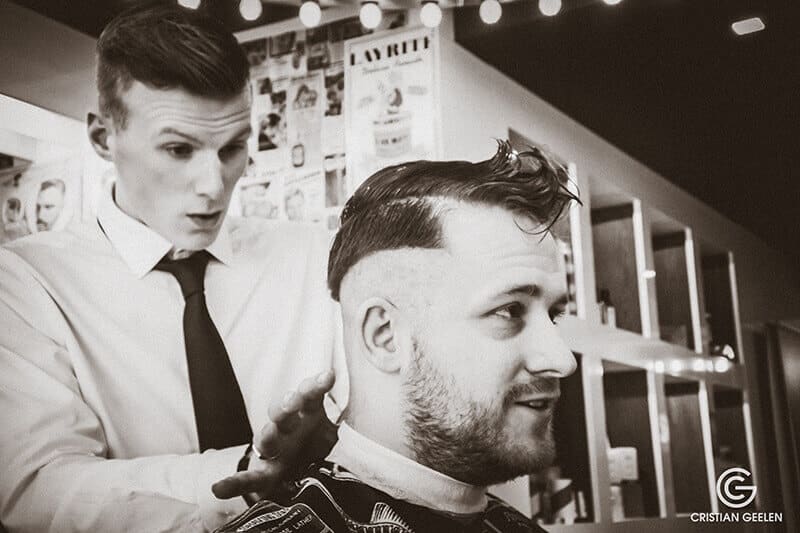 A skin fade is a specialized skill … It goes from nothing to something, perfection in tenths of millimeters makes the difference. We connect the top layer from shaved sides.
Buzzcut | 25,-
Your Subtitle Goes Here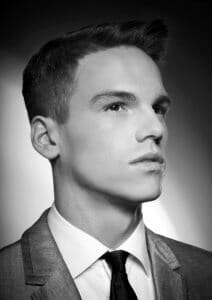 Often used but never out of fashion, this traditional buzz cut. It seems too simple for words, but "just use the clippers tight, and be done with it" is a true specialism. Check for yourself how short you want to go. For a more playful look, you can vary with the sideburns or the hairline. If you want this hairstyle, you need to keep it neat and come back every 2 weeks.
Contour update | 25,-
Your Subtitle Goes Here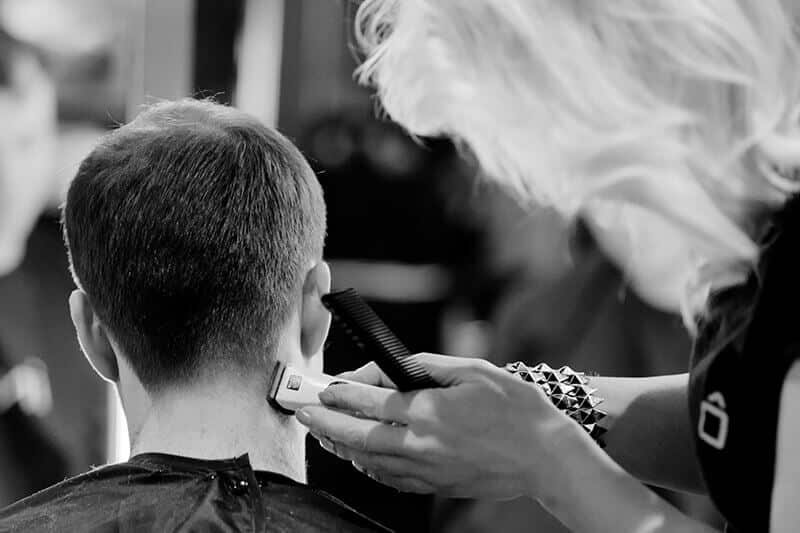 Is your haircut still good but do you want to have the contour lines updated? Book fifteen minutes ME-time and you will look sharp again.
Boys cut | 30,-
Your Subtitle Goes Here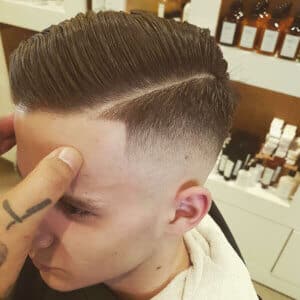 Even the little guys want the grown-up look and get a cut in an adult way. The retro look of our Barbershop makes you look like a real man.
Under cover | 37,50
Your Subtitle Goes Here
If you want to look younger or maybe still want to maintain the distinguished, graying look, then we have the solution for you. Gray reduction; or "more pepper, less salt" makes you look five years younger by a camouflage treatment for those white hairs. The Cover 5 treatment camouflages the first gray hairs in five minutes and gradually fades from your hair so that you do not get annoying outgrowth. Fast, simple, and discreet.
Highlights | 47,50
Your Subtitle Goes Here
Dutch hair is naturally dark blond, which actually means that it is neither dark nor blond. Many men, therefore, have their hair colored with highlights.
Surf dudes, playboys or beachboys. You only really shine when your hair looks sunny. We use special techniques to create a natural sunny effect. No fluffy or dry hair, but beautiful and naturally sun-kissed hair that gives you the feeling of a holiday.
Lowlights | 47,50
Your Subtitle Goes Here
Shades of color, deep shades of brown, dark gray or blonde make it lively. Lowlights give your hair more depth or works on those gray hairs without that annoying outgrowth.
Beard dye | 27,50
Your Subtitle Goes Here
Your beard may be too gray or too red and therefore does not match your hair color. That is why we also paint beards, we specialize in cutting and in colors.
You can choose a semi-permanent color, which means that the color is washed out before it grows out or a permanent variant, which gradually grows out.
Texture Change | 52,50
Your Subtitle Goes Here
Curly hair can be tricky, especially with shorter haircuts. Is it a daily struggle for you to keep your curls under control? Or are you simply not a fan of your curls? Then try our Relax or Straightening treatment.
With a Relax or straightening treatment, the hair becomes calmer and we strip the hair of its natural volume. The result is tamed hair that is easy to control.
The Moisturist X-tenso treatment is a treatment that reduces the curl strengths in two degrees, gives a nicely groomed effect, and removes most of the fluff. Especially suitable for the annoying wings. The treatment lasts about 6-8 weeks.
Classic wave | 77,-
Your Subtitle Goes Here
If you have straight hair and you want a natural curl, a loose perm or a wave may be the solution. The hair can be permed with rollers or shapers. Depending on your hair type, hair care and the chosen curl strength, a perm can last for a number of months, sometimes up to six months.
The barber profession is one of the oldest since man's existence.In fact, around the year 1200, a barber was known best as "Barber - Surgeon".He mainly traveled from village to village and he was not only welcome to trim the hair of the villagers. In addition to...
Houtplein 4
62012 DG Haarlem
Telefoon: 023-5511156

| | |
| --- | --- |
| Monday | Closed |
| Tuesday | 09:00 – 19:00 |
| Wednesday | 09:00 – 19:00 |
| Thursday | 09:00 – 21:00 |
| Friday | 09:00 – 19:00 |
| Saturday | 09:00 – 17:00 |
| Sunday | Closed |
van Baerlestraat 148
1071 BG Amsterdam
Telefoon: 020-6794120
| | |
| --- | --- |
| Monday | Closed |
| Tuesday | 10:00 – 19:00 |
| Wednesday | 10:00 – 19:00 |
| Thursday | 10:00 – 21:00 |
| Friday | 10:00 – 19:00 |
| Saturday | 09:00 – 17:00 |
| Sunday | Closed |