CUTS & COLOURS
You feel better when you're looking great
The haircut is the foundation, but Pierôt's hairdressers use their scissors to create a style. Using the latest cutting techniques, we always look for balance in the shape, making each cut unique. We are aim to get the best result, always.
Our team of Star colourists are always on trend with new colour techniques that match the latest fashion. Our palette of colours includes all shades and tones to create any colour. Whatever colour you want, we have the colour and technique you are looking for.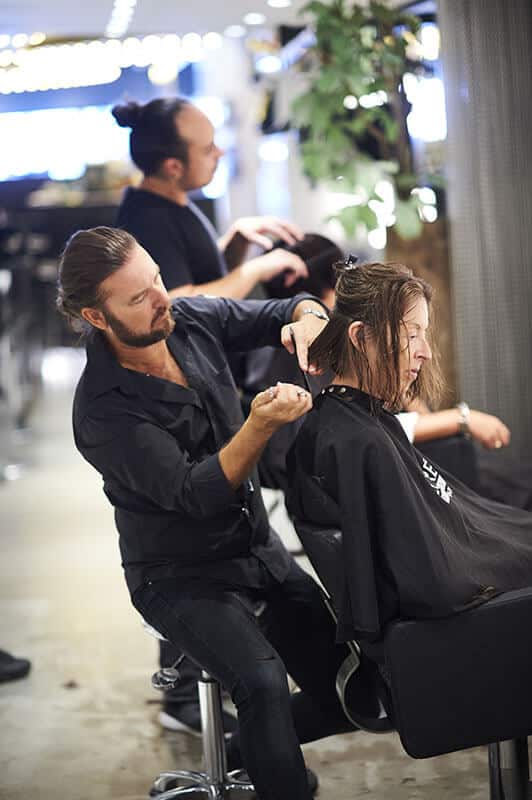 Each visit, the colour specialist will discusses the options with you. We always aim to keep your hair in optimal quality and give advice regarding your hair care, so that your hair stays healthy and looking good.
CUTS
The hairdressers at Pierôt use their scissors to style your hair. We use the latest cutting techniques to look for balance in the shape, making each haircut unique.
colours
We help you choose the right hair colour and offer, in addition to our expertise, an enormous variety of colouring techniques and colouring products. We make custom hairstyles and colours.
The rates mentioned in the price list are based on length and the average amount of hair. If larger quantities of the products are used for extra long and / or extra hair and / or the treatment takes more time than usual, the final amount may deviate.
WASH, CUT & STYLING| PRICES FROM 62,50
Your Subtitle Goes Here
Young people up to 20 years old and students receive a 20% discount on all cutting and colouring treatments (on presentation of a valid ID or college ID).
WASH & CUT KIDS | PRICES FROM 30,-
Your Subtitle Goes Here
Children up to 12 years old can be cut for this rate on weekdays, there is no children's rate on Saturdays, but the 20% discount does apply.
WASH & BLOW DRY| PRICES FROM 40,-
Your Subtitle Goes Here
We offer this service for our weekly customers with a 20% discount when purchasing a multi-ticket. Pay for 10, and receive 12 treatments.
Young Talent: 20% discount on the listed prices.
(Young Talents have less than 5 years experience)
Creative director: €15,00 surcharge on the listed prices.
Students and  <20: 20% discount on all treatments.
ROOTS & BASE COLOUR | PRICES FROM 40,-
Your Subtitle Goes Here
Colour your outgrowth because you turn gray, or a root shade to give your colour more depth. This can also be a supplement between your highlights or in combination with your balayage.
CLASSIC SINGLE COLOUR | PRICES FROM 42,50
Your Subtitle Goes Here
One beautiful colour where the whole hair is coloured with the best colour products.
CREATIVE COLOUR multi colour | PRICES FROM 62,50
Your Subtitle Goes Here
Creative Colours consist of one colouring with different highlights and lowlights. This tailor-made colour technique is suitable for anyone who wants to give more character to their hair by means of various colour accents.
ARTISTIC COLOUR | PRICES FROM 87,50
Your Subtitle Goes Here
Artistic Colours is a technique applied by our colour specialists, they consider your hair as their canvas to create a unique colour palette. This can be done with special foil techniques or freehand painting techniques, such as foilyage and balayage
COUPESOLEIL | PRICES FROM 47,50
Your Subtitle Goes Here
Coupe Folie Soleil. After you have determined the right colour combination and the desired effect together with our stylist, the colour is put into the hair with the help of foils. This creates highlights that blend naturally with the rest. Of course, the way your hair falls is taken into account. The number of foils can vary from half the hair or three-quarters of the hair (from ear to ear) to the entire section. The Coupe Foil Soleil technique can also be combined with basic colouring.
Hoeveelheid
Folie
1/4
47,50
57,50
67,50
1/2
67,50
77,50
90,-
3/4
90,-
100,-
110,-
1/1
110,-
120,-
140,-
BALAYAGE | PRICES FROM 110,-
Your Subtitle Goes Here
Balayage is derived from the French word Balai, which means broom. With or without foil and by using a special non-staining bleach powder, we sweep soft streaks through the hair, creating a natural sun-kissed effect. This hair painting technique can be applied with multiple shades, so that light and dark provide a lively result.
TONERS | PRICES FROM 22,50
Your Subtitle Goes Here
AIRTOUCH SURCHARGE| PRICES FROM 75,-
Your Subtitle Goes Here
Airtouch.  A unique method to create highlights in which we use the hairdryer. This gives the most natural result to your coupe soleil or balayage. By blowing away the short hair, we only color the strong, longer hair. This results in less damage and a seamless result. It provides a natural depth in the hair that is softer than the traditional highlights and it gives a particularly nice transition to the blonde lengths.
The added benefit is that the color stays beautiful for a longer period and does not grow out visibly. You do not have to color as often and it is less harmful to your hair.
The treatment is very labour-intensive and is carried out by 2 people. A surcharge of 75.00 is charged for this.
* A surcharge may be charged for thick and/or long hair. This in connection with extra time and/or products that we need for this.
[dss_masonry_gallery images="5939,5940,5941,5943,5942,5944,5945,5946,5947,5948,5949,5950,5951,5952,5953″ columns="6″ gutter="15″ use_thumbnails="on" fix_lazy="on" columns_tablet="3″ columns_phone="3″ columns_last_edited="on|phone" _builder_version="4.4.2″ saved_tabs="all" _i="0″ _address="7.1.0.0″ /]
frequently asked questions
What is a Young Talent?
Your Subtitle Goes Here
Young Talents are ambitious, eager to learn, and have successfully completed our internal training program. They have less than 5 years of experience and offer their haircut treatments with a 20% discount. This makes it easier for them to build a good customer base and there is a treatment for everyone's budget.
Why are women's haircuts more expensive than men's haircuts?
Your Subtitle Goes Here
For the ladies, we plan more time for the appointment and pay more attention to styling.
Do you have student discounts?
Your Subtitle Goes Here
Absolutely! STUDENTS and young adults up to 20 years receive a 20% discount on all treatments  (upon presentation of a valid ID or college ID).
Is a childrens' haircut cheaper than adults?
Your Subtitle Goes Here
We cut KIDS at a greatly reduced rate, of course, they will receive the full attention that you are used to from us. The children's rate is valid up to and including 12 years of age.
What is hair toner?
Your Subtitle Goes Here
A hair toner is a hair product with coloured pigments that we apply to the hair after bleaching to neutralize unwanted shades in the hair. The added pigments and the unwanted shades cancel each other out so that only the desired hair color remains. For example, a blue hair toner cancels out an orange tint. But you can also add other characters such as gold, mocha, pastel, or mother-of-pearl.
Is colouring bad for my hair?
Your Subtitle Goes Here
We always try to prevent damage, especially with bleaching. However, the bleaching can cause hair to become porous, resulting in damaged, dull hair that tangles, breaks and splits more easily. That is why we use products such as Smartbond from L'Óreal Professional and Olaplex. This way we prevent damage to your hair and we are able to restore your hair with our Kérastase Rituals.
Do you participate in hair donations?
Your Subtitle Goes Here
Absolutely. Customers who donate their hair of at least 30 centimeters in the braid with us, we reward with a 50% discount on a new haircut on Tuesday, Wednesday and Thursday! This discount does not apply to children hair cuts, which is already a reduced rate.
With this we support two charities: De Haarstichting, which collects hair donations with the help of the Hairbank from which hairpieces are made. These hairpieces are offered free of charge to women with breast cancer who are financially less fortunate.
Stichting Haarwensen ensures that children who are bald or become bald due to medical treatment or another causes, can wear a wig made of real hair. There are no costs involved for the parents of these children.
Is cutting curly hair different from straight hair?
Your Subtitle Goes Here
Cutting curly hair is a profession in itself. It doesn't work like straight hair and it requires knowledge of the natural fall. With our new revolutionary curling scissors, we cut your hair in a way that invisible natural curls appear again and your hair gets more volume.
Unlike general cutting where the hair is cut straight, curly hair is cut in a curve, strand by strand. Thanks to this special round cutting technique, it follows the natural curl/stroke direction. Hair will be less heavy, fuller at the scalp, and ends will curls instead of frizz.
Houtplein 4
2012 DG Haarlem
Telephone: 023-5511156
| | |
| --- | --- |
| Monday | closed |
| Tuesday | 09:00 – 19:00 |
| Wednesday | 09:00 – 19:00 |
| Thursday | 09:00 – 21:00 |
| Friday | 09:00 – 19:00 |
| Saturday | 09:00 – 17:00 |
| Sunday | closed |
van Baerlestraat 148
1071 BG Amsterdam
Telephone: 020-6794120
| | |
| --- | --- |
| Monday | closed |
| Tuesday | 10:00 – 19:00 |
| Wednesday | 10:00 – 19:00 |
| Thursday | 10:00 – 21:00 |
| Friday | 10:00 – 19:00 |
| Saturday | 09:00 – 17:00 |
| Sunday | closed |